NEWBORN WRAPPING and posing photography digital videos
$

99.00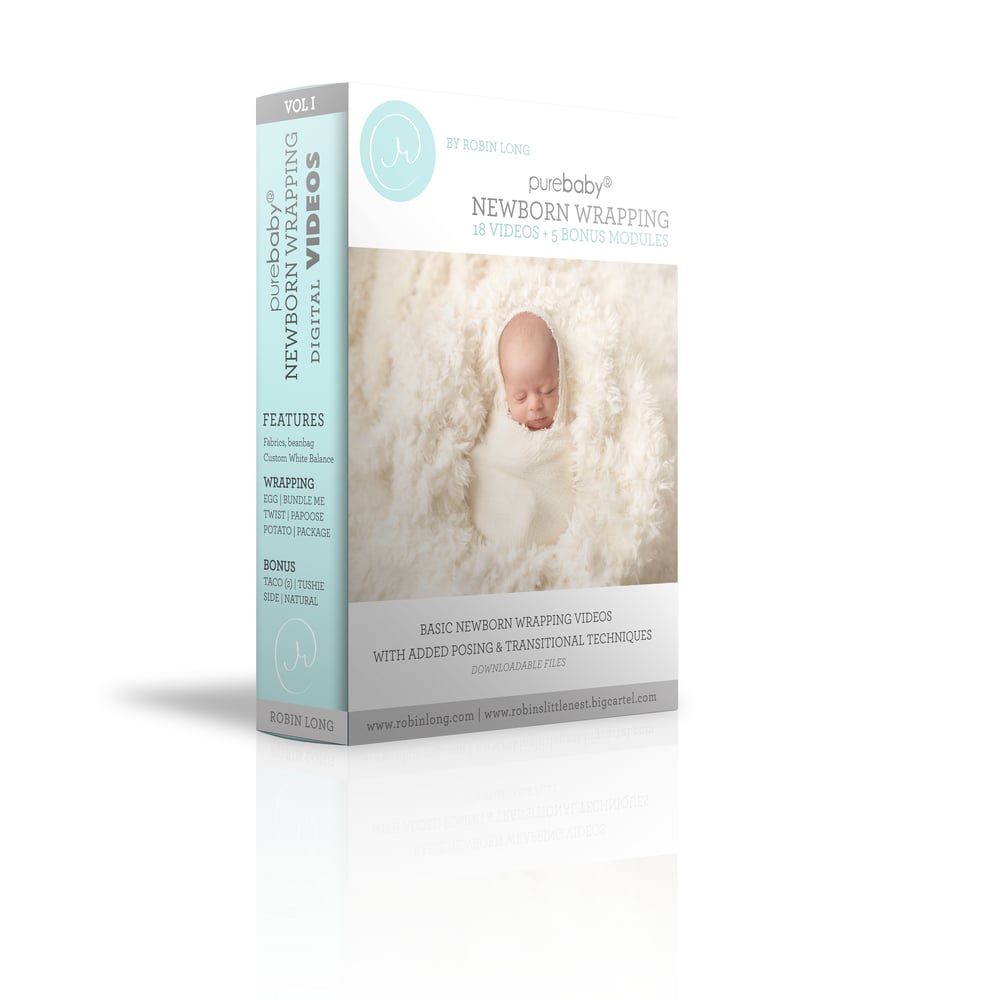 NEWBORN WRAPPING VIDEO COLLECTION with BONUS "Tushie, Taco & Side" Poses by Robin Long
AMAZING deal offers you the NEWLY RELEASED "NEWBORN WRAPPING" Bundle Digital Videos!
*** THESE ARE DIGITAL FILES. YOU WILL RECEIVE AN EMAIL WITH A LINK TO DOWNLOAD SHORTLY AFTER PURCHASE. READ INFO BELOW ON FILE SIZE AND ESTIMATED DOWNLOAD TIME. **
Wrapping newborns has always been Robin's all time favorite set up at her sessions. The simple, pure and timeless images she portrays are cherished moments to all her clients. Are you ready to take your photography to a new level to include wrapping in your sessions? Clients LOVE simple and natural images creating their baby's story. Join Robin in to her studio where she shows you how to work with awake, wiggly babies, as well as sleeping babies.
Robin will show you which type of fabrics and wraps are best with specific poses and simple instruction is given on using the bean bag, layering your fabrics, background stand and setting a custom white balance.
VIDEO CONTENTS
THE BASICS
Fabrics & Wraps
Beanbag & Blanket Stand
Custom White Balance
NEWBORN WRAPPING
Egg Wrap
Bundle Me
Twist
Papoose
Potato
Package
You will also receive FIVE BONUS VIDEOS with Posing & Transitions
Tushie
Side
Taco - 2 videos
Natural awake
* 1.3 GB .mov file
* approximately 20 minutes to download, depending on Internet speed
* over 2 hours of videos
* downloaded as ONE file with subfolders of each video
Are you just starting out in Newborn Photography or having a hard time keeping the baby snuggled inside a wrap? Or maybe you are struggling with how to safely pose the baby in to the taco or tushie position. If so, these videos will start you off selecting which fabrics work well with each pose and how to keep their feet in and wrapped up warm and snug.
As you know, we all have awake babies sometimes and it can be a struggle on what to do and how to get them wrapped when they are so wiggly.
Robin also adds in a couple "natural" posing sections to show you how simple you can keep your set up and posing and what you can do when the baby wants to be awake and free.
A TOTAL OF 23 VIDEOS
EIGHTEEN VIDEO MODULES + 5 BONUS VIDEOS on posing & transitions
Please Note: Videos are downloadable .mov format files, 1.3 GB total, and will take an average of 20 minutes to download depending on your Internet speed. There are a total of 23 videos to download. You'll be able to download all the videos together.
"There's no right or wrong way to wrap a newborn. It's open to your own creativeness and has no rules. I hope you find these videos useful in your newborn photography." ~ Robin Long
Connect with me:
Instagram: @robin_long_studio
Facebook: @newbornphotographerrobinlong
Email: [email protected]
© 2019 ROBIN LONG PHOTOGRAPHY | ALL RIGHTS RESERVED